Tuesday 08/05/2012 Meelick Quay - Fanning's Lock
Length of boat trip: 2.25 hours
Motto of the day: Our last day
What shall I say? How would you feel after a month boating when the last day is dawning?
Showers arrive in the morning and we use the time to pack our luggage.
A boat comes along and try to moor beside the quay wall although there is enough space. Willi helps and the crew is welcomed by the harbour master.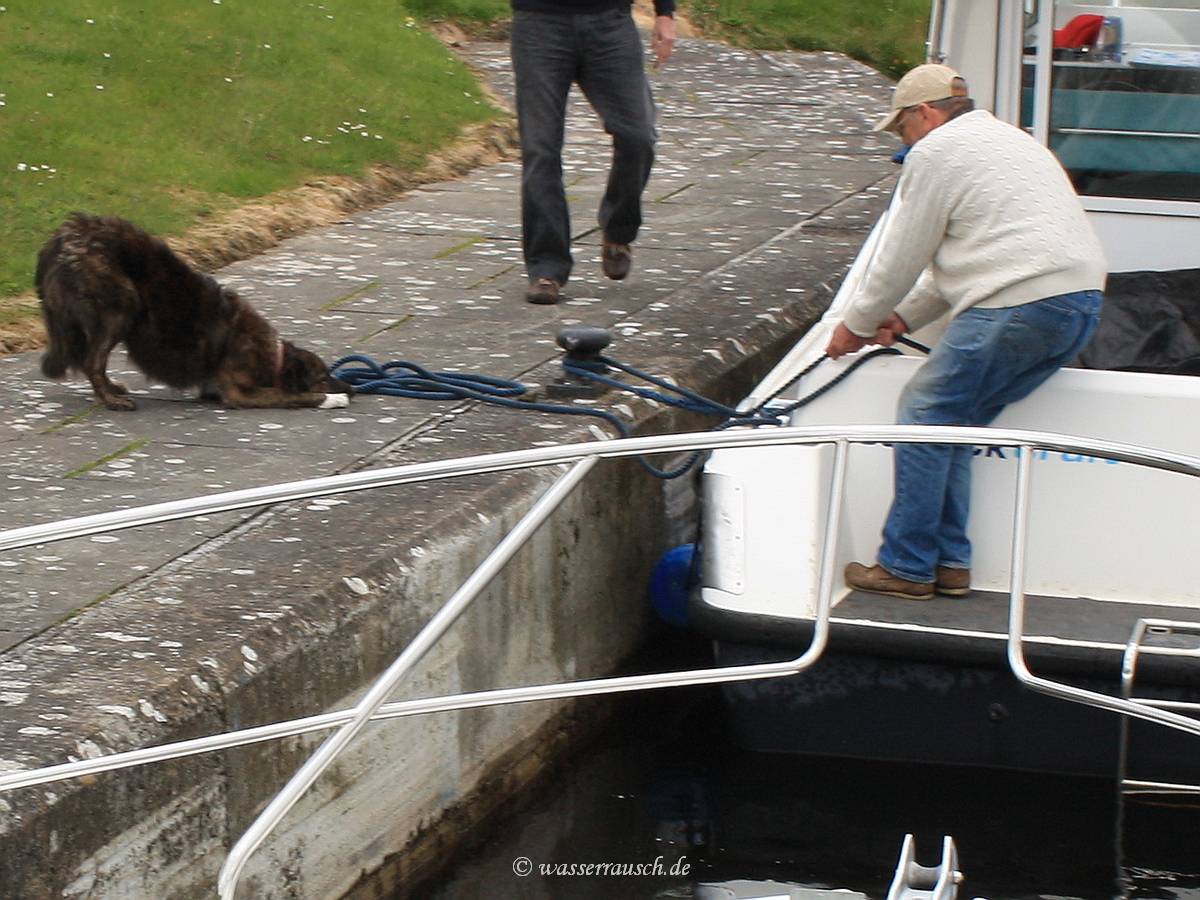 We say goodbye to Donal and drive slowly upstream. Behind Banagher we go in the backwater behind Bullock Island. After a slow circuit we drive further upstream.
Again we spot curlews; some are bathing in the river.
We moor at Fanning's Lock for the rest of the day.
The evening is sunny and I want to walk around, it is muddy on the meadow where sometimes the horses find their way over fences but my wellies are still stored in the luggage. So is there a solution? Look!
Shannon Airport Max 13.3°C Min 3.6°C Rainfall 0.0 mm (We had showers in the morning) Sun hours 6.9 Wind NW F3
We will get up early tomorrow and drive the short way back to Banagher and leave.
Summary
There was less traffic on the water except from Easter and the May bank holiday weekend.
We met friendly people and some familiar and some new faces.
We had not too much rain and on average about 6 hours sun every day. It has been a cool April and we had ropes and boat frozen on some mornings. We also got some strong winds with gale force gusts. All in all the weather was Irish with clouds and rain, sun and blue skies, showers and rainbows, gusty wind and less wind. It was the first time we saw a thunderstorm, luckily in some distance.
We spent 33 great boating days on the Shannon and have driven every day. Every day was different with its own experiences and adventures.
For the statistics: All in all we boat 900 km in 110 hours, 3.5 hours on average per day with 8 km/h average speed (a bit more than 4 knots).
We saw more curlews than last year. The cuckoos arrived later than last year from the Congo rainforest. But we haven't seen any kingfisher in more than four weeks! This is the first time!
It has been our longest boating trip on the Shannon. And time is the most important ingredient in what is needed for the absence of stress on the water and to relax. Along these lines we wish you all relaxed boating this year!