There are more than two versions about what now happened. Here is mine.
Willi while standing on the bow is the first one who spots the shallow. He gives the skipper signs to drive more to starboard. The skipper and the crew beside him are smiling because the GPS shows the channel to port. Not that the skipper trusts GPS charts but the communication between Willi and him takes too long. One reason for that could be the immense length of the boat. Meanwhile we are going on till we stop, that means we softly run aground.
The "small" but powerful 'Tanjuan' brings us side- and backwards off the shallow. We are back in deep water. And, it's a great pity that we didn't get stuck there for a longer time! It would have been great fun to plunder the fridge on board and to have a nice BBQ at one of the smallest wooded islands on Lough Derg. If you are wandering the backwaters in a 70-ton barge you will always touch bottom at some stage, all part of the adventure.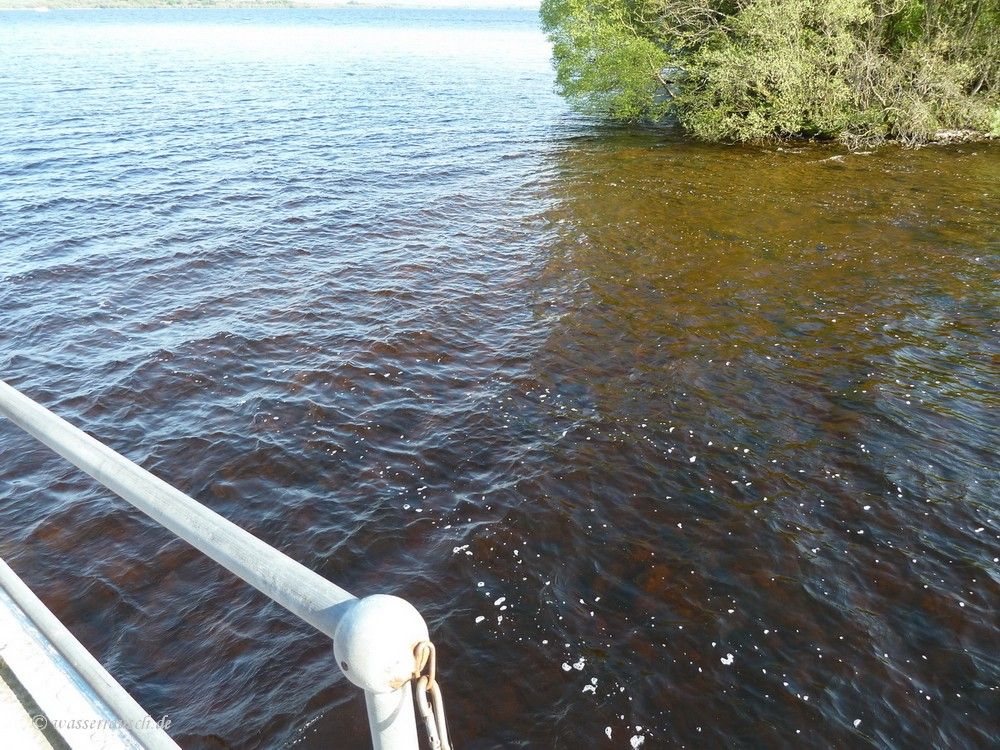 We go on, now through "Willi's channel". On the GPS chart we are now driving over a shallow. We go around the island and then on the main navigation back to Dromaan.
Outside Dromaan harbour we untie 'Tanjuan'. 'James & Mary' follows her and gets the last free berth.
The harbour has some more boats moored now but there is still space to raft and every boat, which is coming in late, gets help to moor.
We spend the evening on El-Roi and afterwards on 'James & Mary'.
Shannon Airport Max 14.2°C Min 5.2°C Rainfall 0 mm Sun hours 12.4
Length of the trip: 2 1/2 hours
Sunday 24/04/2011 Dromaan - Holy Island - Scarriff Bay
Motto of the day: Noodling, drifting and rafting
The morning starts cloudy but it remains dry the whole day with a light south-westerly wind.
Some do early-morning exercise, others just relax and talk.
The smaller boats starts at noon, the barges will follow later. We drive towards Mountshannon and anchor in a bay behind Holy Island.