It's sunny and warm.
After passing Shannonbridge we meet another hire boater with long experience in boating on the Shannon and the Erne. Sven is also writing in the Shannon-Forum.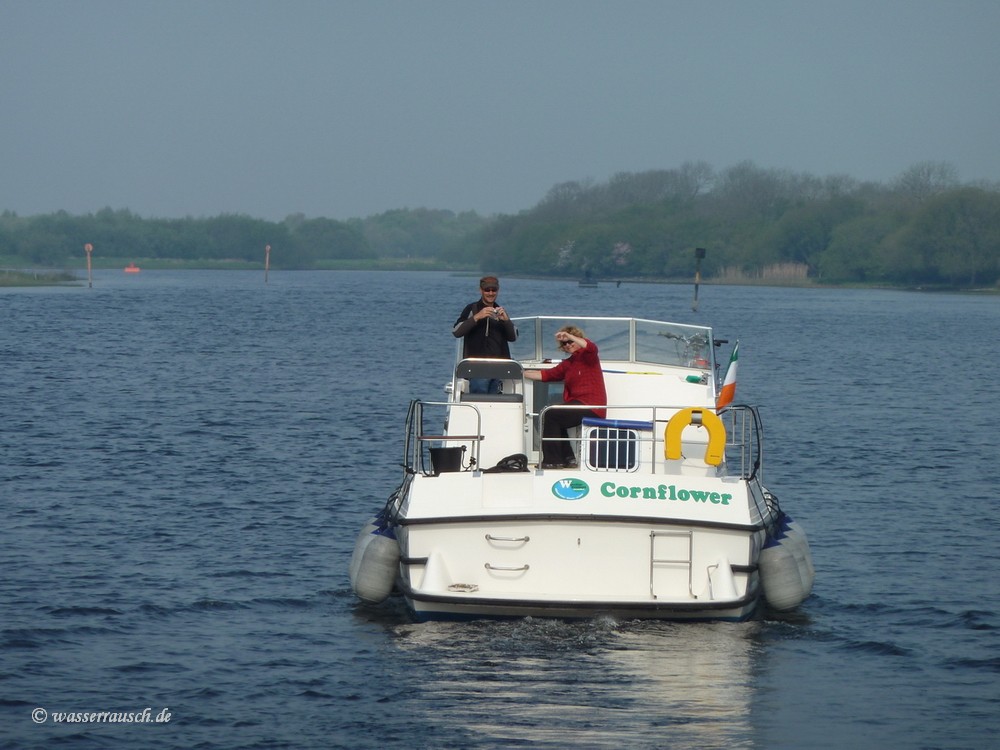 We take on some diesel at Banagher and reach then the stretch with the new green markers.
Spring is in the air! We spot two flying Curlews (Großer Brachvogel) and later a group of six in the meadow.
The walkway over Meelick weir was destroyed in the flooding of November 2009. It is still closed and in a state of disrepair. It's a pity that we cannot walk from the lock to the west side of the river. When in Meelick Lock we see a Grey Wagtail hunting at the gate.
In the afternoon we go further on downstream and pass the ruin of Derryhivenny Castle before going to the Portumna swing-bridge.
We moor at the new floating jetty at Terryglass, where also a swan is breeding in the reeds.
Willi spots young eels in the small stream.
On several boats people are jumping into the water with various flips. Three boats with pirates arrive.
We help some hire boats to moor and give the family with kids on board the Silverline boat 31M a spare tow so that they can secure the boat in a way that their kids can go on and off board without a big step. More and more boats arrive. The cleats of the new jetty fingers are placed in the corner, which is not useful when mooring backwards with the stern in.
The Shannon Princess leaves and Wolfgang and Lisa arrive too. They have something special today to celebrate and walk to 'The Derg Inn'. We relax in the evening and I have the sound of a song of Wolfgang in the ear. The title is "Flusszigeiner". It means something like "River gypsy" or "River wanderer". Flusszigeiner mechdi sei … alles fließd an mier vorbei …. His boating experiences in Ireland are reflected in this song. A sample of the song can be heard here, click on track 01.
Shannon Airport Max 22.7°C Min 10°C Rainfall 0 mm Sun hours 11.8
Length of the trip: 6 hours