Wednesday 17/04/2013 Dublin - Banagher
Motto of the day: Back on board and rocking at the jetty
We arrive at Dublin airport before midday with a bumpy (word used by the pilot) landing and arrive by a short transfer at Banagher where we board again Silver Spray 36L. The wind is constantly increasing and stormy conditions are forecasted for the night.
Shannon Airport Max 15°C Min 8°C Rainfall 13.9 mm Sun hours 3.9 Mean Wind F6, at times F10
Thursday 18/04/2013 Banagher - Meelick Lock - Portumna Castle Harbour
Length of boat trip: 3 hours
Motto of the day: Riding on the waves
The night is rough. At 1:30 am we are woken by a loud banging. It doesn't stop so we have to go out in storm and pouring rain to secure a lake boat which had broken away, drifted into that corner of the marina, where we are moored, and was banging against our hull.
We have some showers in the morning but the sun is also lurking when we start going downstream.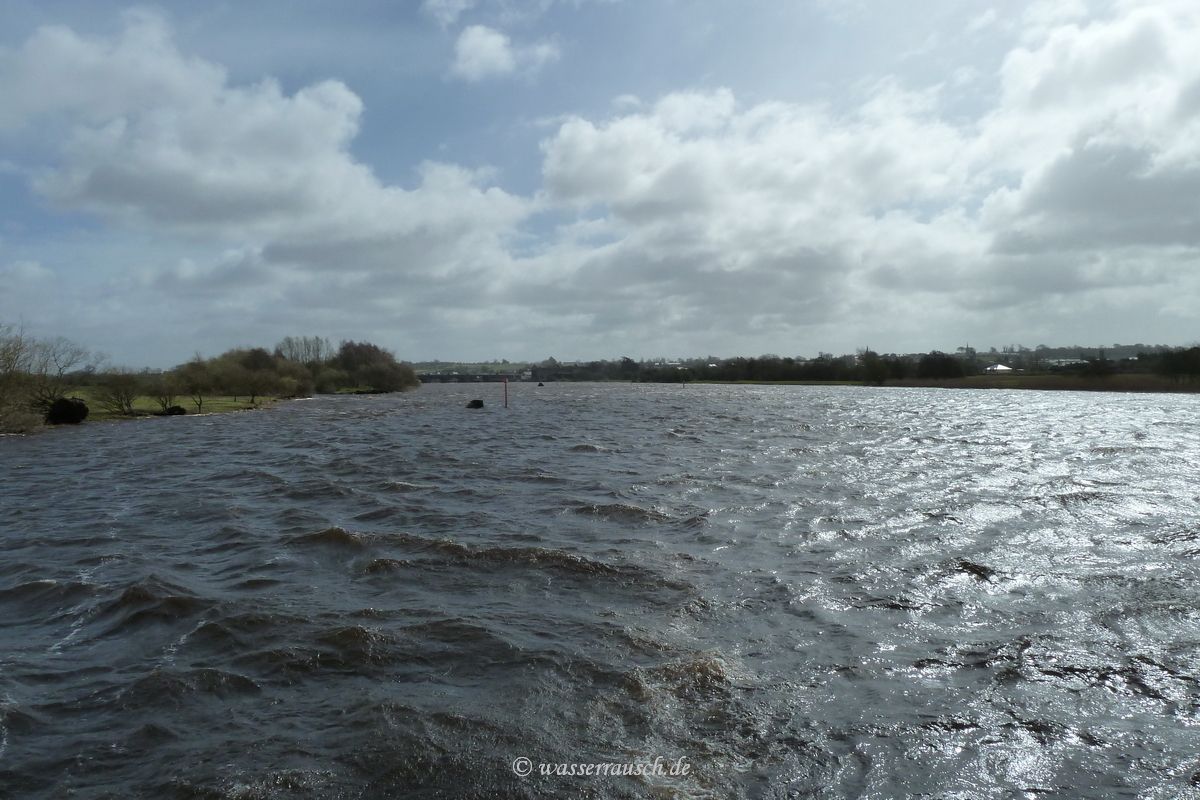 After a windy but dry ride we see 'Hawthorn' and Giles on board at Meelick Quay. We drive a round and wave a hello to him. Giles has become very active in the CSIG and is doing good survey work. Stephen, the lockkeeper, locks us down Victoria Lock and we drive further downstream to Portumna. After passing the lifting bridge we ride to Portumna Castle Harbour, which is nearly empty. Here we do some additional shopping and put all things in place on board.
Shannon Airport Max 10.8°C Min 6.7°C Rainfall 3 mm Sun hours 7 Mean Wind F5, at times F9
Friday 19/04/2013 Portumna Castle Harbour - Garrykennedy - Dromineer
Length of boat trip: 4 hours
Motto of the day: A sunny Lough Derg
The night was quiet; the wind has decreased. A sunny and dry day starts as a weak ridge of high pressure is moving in. We enjoy a calm Lough Derg and drive to Garrykennedy.
In the afternoon we go for a spin to Mountshannon and then to Dromineer. John comes along for a chat after he has put up a new mainsail on his sailing boat. The afternoon becomes more and more sunny. We watch the little traffic on the lake, the birds on the quay wall and bats hunting after sunset.
Shannon Airport Max 13.2°C Min 6.1°C Rainfall 0.1 mm Sun hours 11 Mean Wind F2-3