Tuesday 21/04/09 Terryglass - Meelick
Length of boat trip: 2.0 hours
Motto of the day: Relaxing in the flood plains
This morning we have to say goodbye to the most beautiful lake of the Shannon. Before going upstream we catch a last view over Lough Derg. We pass the swing bridge at Portumna and drive upstream through the sunny Shannon Callows.
Some parts of the shores of the Callows lie below the Shannon level and are secured with low dams. I hope that they will never be raised! The Shannon Callows come with their own peculiar charm. The 15th century Franciscan friary of Meelick; Míliuc, derived from Máighe Fhliuch; the low marshy land; overlooks the Shannon.
Here we have a long walk over the weir and through the riverside forest and the wetlands accompanied by butterflies and birds.
Below the lock to the east arrives the Little Brosna River where the disused Old Canal starts. The Little Brosna flood plain is also an important breeding area and at its confluence with the Shannon lies the Redwood Bog Nature Reserve, with two active raised bogs, the only 165 ha part of the Callows, which is protected. The 5,788 ha of the designated Middle Shannon Callows Special Protection Area between Athlone and Portumna has no real national protection status. Unfortunately the Little Brosna River has a widespread intense eutrophication caused by agriculture sewage and municipal discharges.
We relax and watch busy birds, the nature and WI mechanics who try to find out why one of the lower lock gates can't be opened.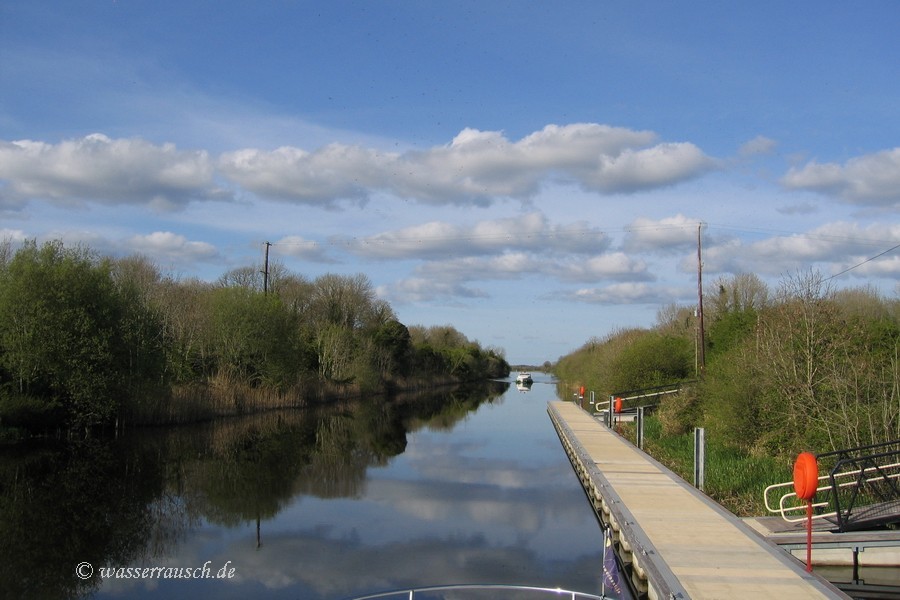 The quiet evening invites us to chill out after a windy but warm day.