Saturday 11/04/09 Haughton Shore - Keshcarrigan
Length of boat trip: 4.0 hours
Motto of the day: A French bagpipe in Ireland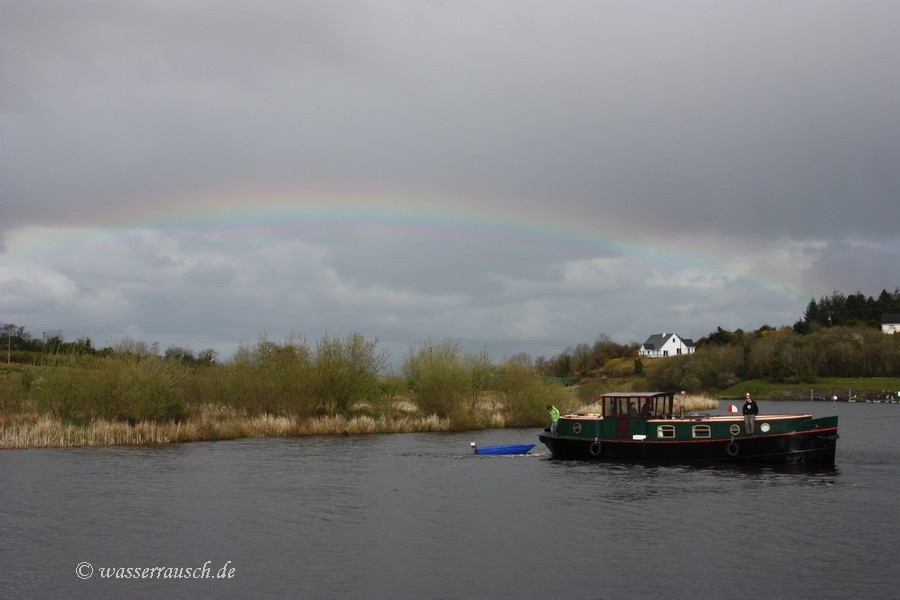 Today we get a mix of sun and clouds but more sun than clouds. We stop at Locaboat in Ballinamore to get our wiper safely fixed. Today only one shower comes along.
We moor after a further short drive at Keshcarrigan and watch the boats arriving for the Easter weekend. 'Louisa' has lost her name but is back on the waters.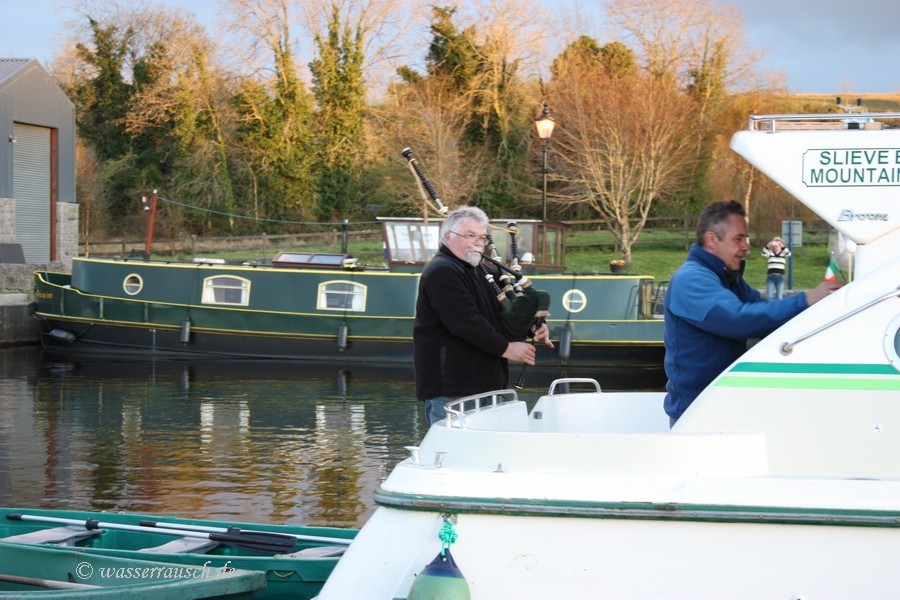 A hire boat with a French crew arrive and one of them plays a bagpipe; Biniou braz (breton); Piob mhor (gael.) when they are arriving or leaving.
We are lucky that they will leave not very early on the next morning although they are anglers. The Biniou Kozh was a traditional instrument of the shepherds in Brittany. It is a nice gesture to play the bagpipes on a boat in Ireland in that way and a good musical entertainment for other boaters.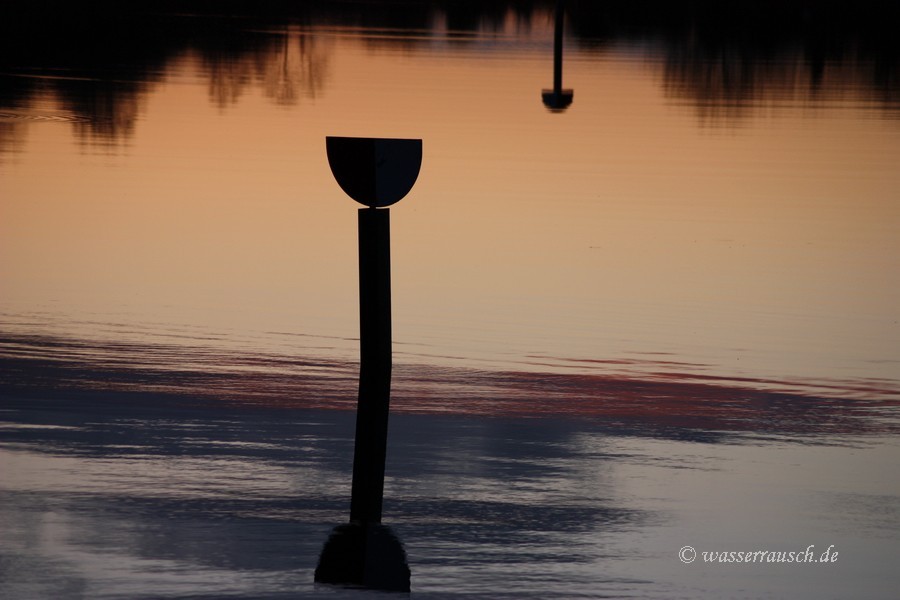 Sunday 12/04/09 Keshcarrigan - Dromod
Length of boat trip: 5.8 hours
Motto of the day: A nice meet and a windfall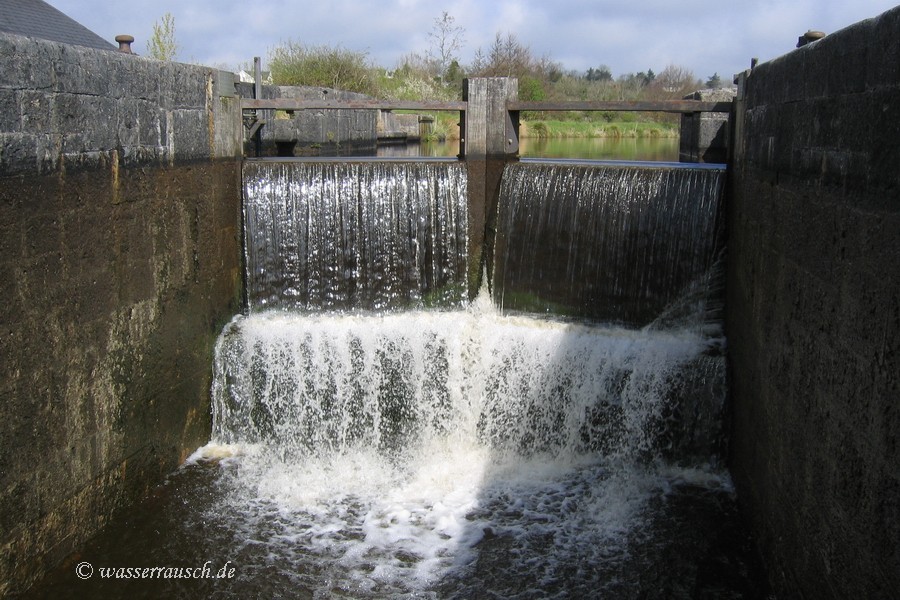 The French leave the jetty before us and we enjoy again the playing of the bagpipes.
A dry day welcomes us so we have an enjoyable trip through the eight locks to Leitrim.
We meet Conor & family at the public jetty of Carrick on Shannon and I get a great 'small' present which I love very much. We leave after a couple of hours and interesting chats about rallies and more with the weather forecast for the next days, supplied by a nice boat crew with internet access beside 'Moonshadow' and the forecast on VHF. Many thanks! Increasing wind is announced for the following days so we decide to go straight on.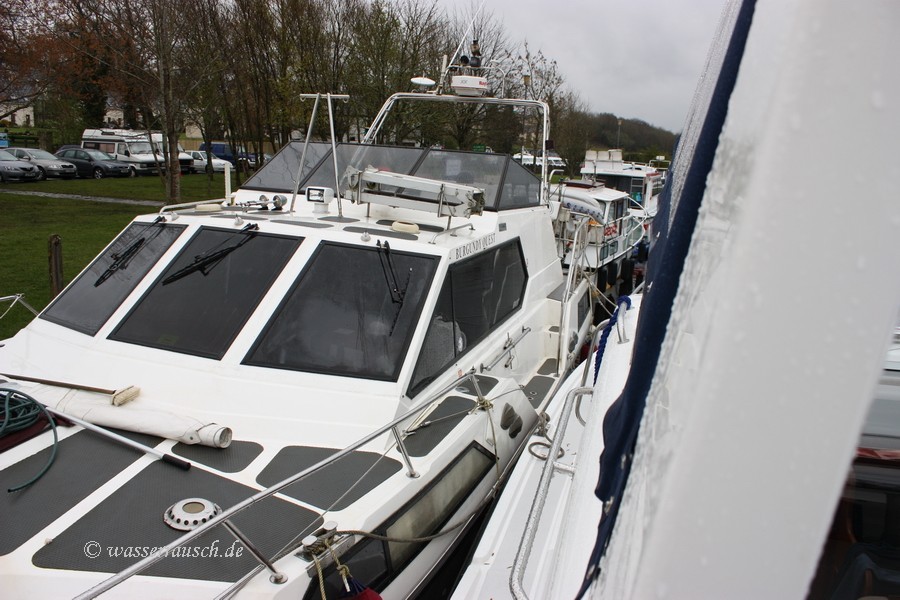 We follow 'Moonriver' and arrive just in time at Albert Lock before closing and reach Dromod where the harbour is full with boats as expected at Easter. After a slow turnround the nice crew of 'Burgundy Quest' wave at us to moor alongside them. Thanks!
We had a dry and sunny day but in the evening it's getting cloudier with some rain.
Monday 13/04/09 Dromod - Hodson Bay
Length of boat trip: 6.7 hours
Motto of the day: A rescued rib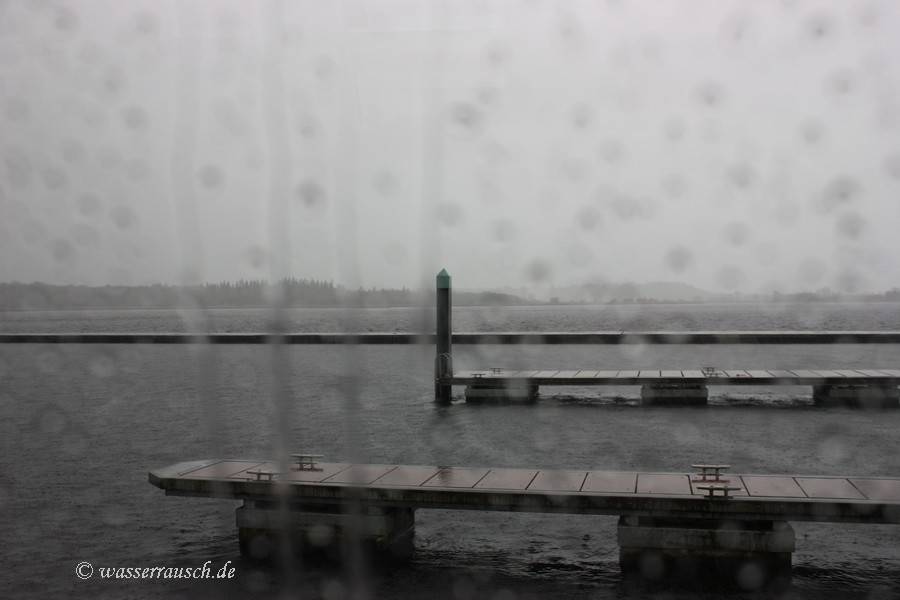 It's cloudy, the sky promises less sun and the showers take it in turns to rain. We are going further down the Shannon and don't have to wait long at Roosky for the lifting bridge and lock but it's the same procedure as last year at Tarmonbarry. We are followed by two boats to Lanesborough. The 'Hummingbird' stops also for a late lunch break at the new jetty.
We follow them in the late afternoon onto Lough Ree. The wind is coming from the south about F4 going against the waves on Lough Ree means a gentle choppy ride. The 'Hummingbird' is towing a rib and around bouy No. 3 the line breaks.
They don't hear the sound of our horn and are driving straight on. Willi secures the rib port with the boathook while we are drifting and rocking and rolling up and down because the waves are coming from the side.
Our boathook and Willi's arm are getting stressed. When the rib is going down our boat is going up and reverse. I remember a passage of chapter fifteen of "Green and Silver" when 'The dinghy's gone' and now understand what Angela has afforded! We were like them not prepared for a case like this but we managed it. It's not easy to get a rope to a rib without jumping in it and while we were talking about how to manage it the crew of 'Hummingbird' wakes up. I say to Willi: "Hang in there. They are coming back." Willi gives his best and they quickly arrive at the scene. One of the boys jumps into the boat and at that moment our boathook gives up. What have we learned? Cruising in company can have surprising benefits!
We moor overnight at Hodson Bay after a rainy and windy day. The club burgee has also given up and Willi has to repair it.