Monday 10/10/2011 Portumna Castle Harbour - Portland Island
Motto of the day: A blustery lake and a sheltered river
What shall I say? Again it is not a day to go on the lake. We have F5 with gusts of F8 (42 knots at Shannon Airport). But that is no reason not to go boating.
We have a short ride back to the lifting bridge. Here we have a look at the new control unit of the Killaloe flow gates.
Then we moor in the Portumna Harbour Canal and disturb a nice daubed with oil mechanic during his breakfast break to say hello. We have met Fergal at Ballina on Saturday but had no time for more than a quick hello.
We then go on, again to Portland Island. This time we choose another tree. It remains dry but windy. A mink hunts and the local Great Crested Grebe is giddy with excitement. A local fishing guide comes along in his boat and I promise him to tell him the hidden spot of the big pike here if he catches the mink.
A CarrickCraft boat with fishermen is moored to another tree for the night 50 metres away. In the evening an owl is hunting across the river.
Tuesday 11/10/2011 Portland Island – Banagher – Back Water Bullock Island
Motto of the day: Wild mooring is addictive
In the morning when the CC hire boat leaves we spot a lost floating bobber. After shouting to them they turn and recover the angling tackle which they had lost yesterday.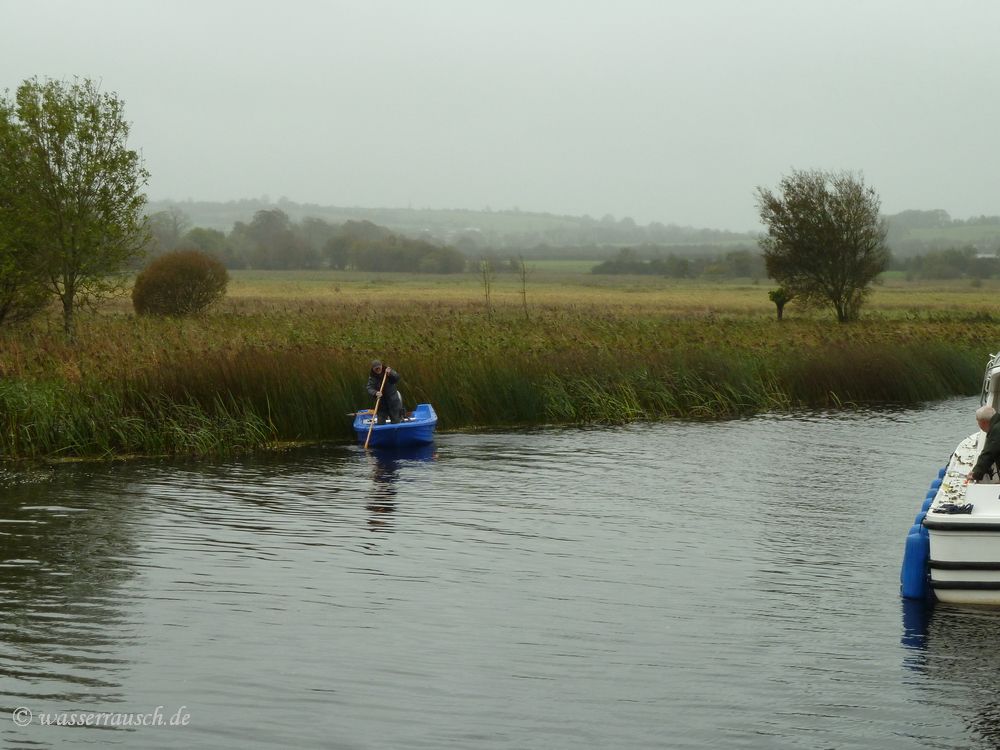 On the opposite shore rests a group of Lapwings and we spot some more groups while going upstream.
Lapwings are partial migrants in Ireland. That means some of them leave Ireland and some stay or arrive here in winter. The Shannon Callows is one of those areas with often more favourable winter conditions but the last two winters were harsh. So it depends on the condition this winter if they will move or not. But now it is mild with temperatures well in the mid teens and also the low temperatures during the night are well into double figures. I don't know if the several groups of Lapwings we see today have been resident in Ireland during summer or if they are the first guests of migrating Lapwings from Scotland, Scandinavia and Iceland. However, it is a pleasure to watch their acrobatic flying.
A group of young swans are irritated when we drive slowly through them. It looks like that their parents are bringing them together into groups before the adults migrate.
Above Meelick the Waterways Ireland pontoon is in action. A new red marker will be put in where the red buoy is placed.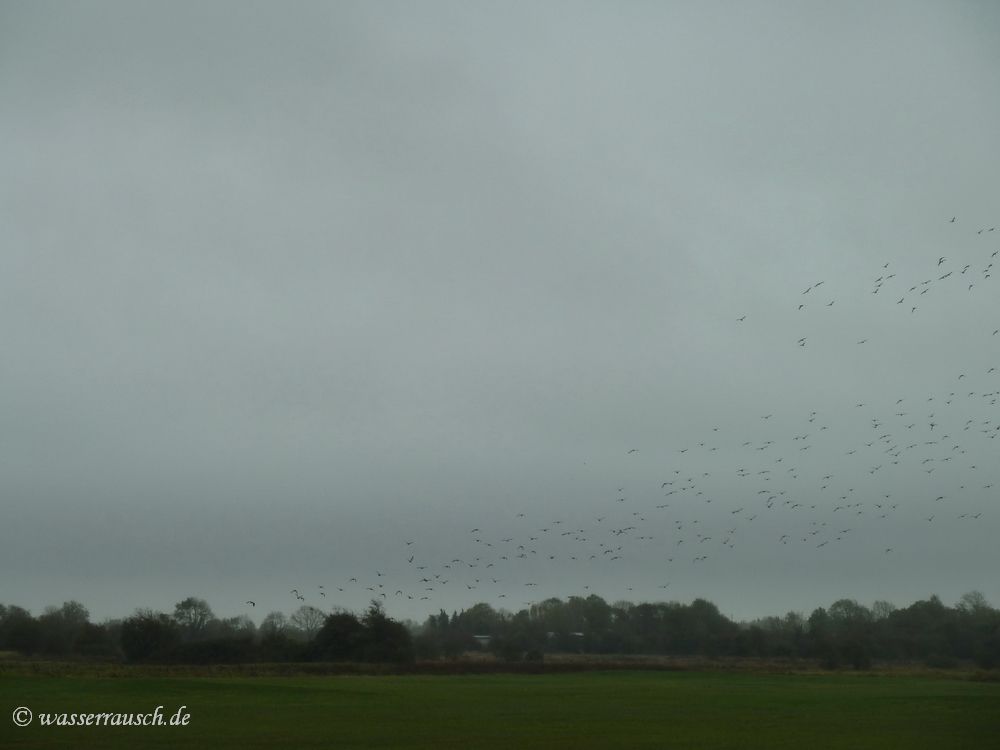 We moor at Silverline in Banagher and talk to Barbara about our departure tomorrow.